My Blog
Posts for tag: dental implants
By Welcome Dentistry
October 17, 2018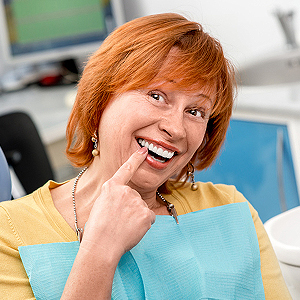 You've decided to obtain dental implants for your missing teeth. It's a good choice — they provide the closest restoration to the function and appearance of natural teeth. You will, however, need to undergo a surgical procedure to imbed the implants' threaded titanium posts into supporting bone.
It's understandable if you're a little apprehensive about undergoing surgery. We're here, though, to set your mind at ease: implantation is a relatively minor procedure carefully planned in advance. Most patients experience no discomfort during the procedure and very little afterward.
We begin by completely numbing the surgical site with a local anesthetic. If you have a high level of anxiety, we can also administer a sedative or similar medication to help you relax. We then access the underlying bone through a series of incisions that create a flap in the gum tissue that we'll later suture closed.
It's quite common to have prepared a surgical guide or template beforehand. The template placed in the mouth marks the exact site for a small channel (or hole) we create in the bone. We then incrementally increase the size of the hole by drilling until it matches precisely the implant's size and shape. This takes time to avoid overheating and damaging the bone.
We then remove the implant from its sterile packaging and insert it into the opening. We'll also take x-rays to ensure correct positioning, which is critical for achieving an attractive result. We then suture the gum flap in place using stitches that will eventually dissolve. The implant will then integrate with the bone for a few weeks to create a strong, durable hold before we continue with the restoration.
Most patients can manage any post-surgical discomfort with mild anti-inflammatory pain relievers like aspirin or ibuprofen, although we can prescribe something stronger if you need it. We may also prescribe a mouthrinse with an anti-bacterial agent like chlorhexidine for you to use while the gums are healing to reduce the risk of infection.
Implant surgery is part of a long process that will eventually result in regaining the function of your lost teeth. What's more, undergoing this minor procedure will also help you regain something just as important — a beautiful smile.
If you would like more information on dental implant restoration, please contact us or schedule an appointment for a consultation. You can also learn more about this topic by reading the Dear Doctor magazine article "Dental Implant Surgery."
By Welcome Dentistry
March 26, 2018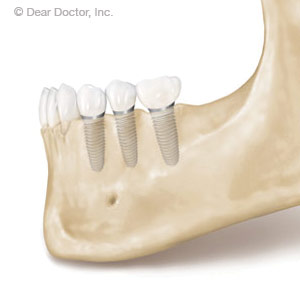 You've probably heard a lot about dental implants as replacements for missing teeth. So, why are they so popular with both patients and dentists? While other restorations can mimic the color, shape and texture of natural teeth, dental implants have one clear advantage — and it's all about the bone.
The bone in your jaws provides stability and structure for teeth — without it and the intricate system of gum tissue attachments teeth couldn't survive the normal biting and chewing forces they encounter every day. That's why bone health is crucial for maintaining tooth integrity.
Teeth also help bone to remain strong and healthy. The forces we generate as we chew transmit through the tooth roots to the bone, which stimulates continuing growth. If a tooth is missing, however, the bone around it doesn't receive this stimulation and may begin to lose some of its volume and density — up to a quarter of its width in just the first year after tooth loss.
This bone loss continues even with other restorations because they're not able to stimulate bone growth. But dental implants can. This is because the portion of the implant imbedded into the bone is constructed most often of titanium, which has a natural affinity toward bone. Bone cells are naturally attracted to titanium and will begin to grow and attach to the metal surface, a process known as osseointegration.
Through osseointegration, the implant develops a durable bond with the jawbone a few weeks after surgery that surpasses other restorations, and is a prime reason for their success rate. Although installing implants can be an expensive undertaking, their proven longevity may result in less maintenance, repair or replacement costs over time than other replacement options.
If you're considering dental implants, remember it's what you can't see beneath the attractive crown that makes them special. And it's a choice you can depend on to provide you a beautiful smile for years to come.
If you would like more information on dental implants, please contact us or schedule an appointment for a consultation. You can also learn more about this topic by reading the Dear Doctor magazine article "Dental Implants."
By Welcome Dentistry
March 03, 2018
People often put a premium on appearance when deciding whether or not to replace a missing tooth. There's more motivation to replace one in the "smile zone," where the teeth are more visible, than one that's not.
But even if your missing tooth is in the back out of sight, there are still good reasons to replace it. That's because even one lost tooth can have a cascading ill effect on other teeth, the underlying bone or eventually your entire facial structure.
The chief problems caused by a missing tooth occur first with the bone. The act of chewing generates pressure around the teeth. The teeth transmit this pressure through the roots to the bone, which stimulates the bone to grow and remain strong in support of the teeth. When you lose a tooth, the bone no longer receives this growth stimulation.
In time, the replacement rate for older bone cells will slow down and cause the bone volume to decrease. It's possible to detect a change just months after losing a tooth: you can lose an estimated 25% of bone width in the first year.
As the bone diminishes, the jaw loses height and then more width. The gum tissues will also gradually decrease. As a result you may not be able to chew or even speak as well as you once could. Depending on the number of teeth you've lost, the foundational portion of the jawbone — the basal bone — may also decline. The distance between nose and chin may decrease and the cheeks sink in. Without bone support in the rear, the bite can collapse and push the teeth forward out of their normal position.
The best way to avoid this debilitating spiral is to replace a tooth as soon as practical. There are many options, but perhaps the best choice is a dental implant: not only will it provide a life-like appearance, but its affinity with bone will stop bone loss and even encourage new growth.
So, don't neglect replacing that "invisible" tooth if it's lost. Your mouth and ultimately your appearance will be better for it.
If you would like more information on tooth loss and restoration options, please contact us or schedule an appointment for a consultation. You can also learn more about this topic by reading the Dear Doctor magazine article "The Hidden Consequences of Losing Teeth."